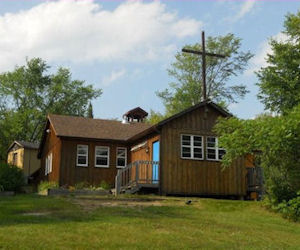 Facilities
The camp property contains a large field on which both soccer and football can be played. There is also a volleyball court and a tetherball post where each sport can be enjoyed during free time. A frisbee golf course spans the camp property and is used frequently by campers. Many games of hockey and basketball have been played on the court located near the upper cabins. Also, campfires are held twice a week around the outdoor fire pit.

The dining hall is the central building on the camp property, and is where all the meals are served. The auditorium, another main building, is used for chapel services and indoor games on rainy days. Campers buy their tuck every day at the tuck shop, and take showers during the week in the two showerhouses.

The camp also owns a small beach and dock on the waterfront, about a 5 minutes' walk from the main campsite. Kayaks, canoes, rowboats, and windsurfers are available for use on the water, along with a diving tower for campers to enjoy.
Accommodations
The campsite has eleven sleeping cabins. The six upper cabins -- Swallow, Oriole, Cardinal, Finch, Vireo, and Chickadee -- have a main room with four bunk beds to accomodate eight campers, and a smaller room with one bunk bed where the counsellor stays. These cabins also contain a washroom, table, and shelves. The five lower cabins -- Fox, Beaver, Raccoon, Squirrel, and Chipmunk -- contain one main room with four bunk beds, a table, and shelves. There are several smaller cabins which accommodate our additional staff members.